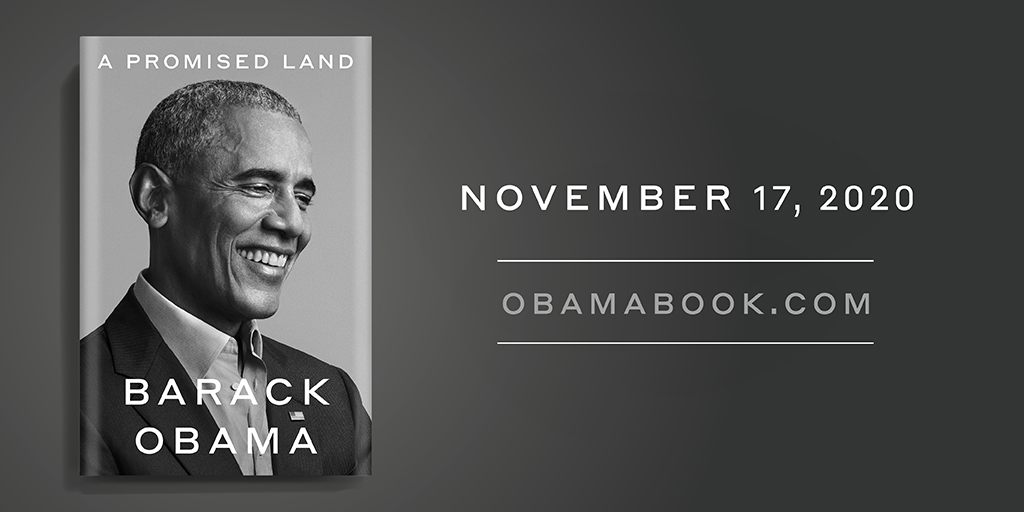 A Promised Land By Barack Obama
A Promised Land By Barack Obama
Jacob Becker , Sep 18, 2020  
"There's no feeling like finishing a book, and I'm proud of this one," former President Barack Obama wrote on Twitter.
The much-awaited presidential memoir finally set to hit shelves on November 17 this year, post-2020 presidential election. This book is the first of two volumes of the former President's memoir. This book is already predicted to be one of the best non fiction ebooks in the presidential memoir category.
A Promised Land by Barack Obama is a 768-page book. It will be available in 25 languages in markets around the world. Readers have been waiting for this book for a long time. This book is going to give some honest reflection into the former President's early political life, his presidential campaign in 2008, and the killing of Osama bin Laden in 2011. Experts say this book will be a blockbuster, and demand for the book is expected to be extraordinary.
Some interesting facts about A Promised Land By Barack Obama
It is a 768-page book and will include two 16-page photographic inserts

It is the first of the two volumes of Obama's memoir.

The book will be published worldwide in 25 languages, including Spanish, Chinese, Arabic, Vietnamese, Czech, and Finnish.

The book is published by Penguin Random House. According to The New York Times, Crown, an imprint of Penguin Random House, has ordered a first printing for the U.S. edition of 3 million copies. Crown plans to print about 1 million of those books in Germany to accommodate such an enormous order.

The hardback edition's list price is $45, while the digital edition will cost $17.99. You can purchase the digital edition from online reputable ebooks stores like Crimson Codex. The audiobook will cost $40 for download, while the CD will cost you $65.
What A Promised Land by Barack Obama is all about?
Barack Obama on twitter wrote, "In A Promised Land, I try to provide an honest accounting of my presidency, the forces we grapple with as a nation, and how we can heal our divisions and make democracy work for everybody."
https://twitter.com/BarackObama/status/1306535933475532803
Well, one can get a fair idea from the choice of words by the former President what this book will be about. The phrase "an honest accounting" has intrigued the readers. It tells Barack Obama is not only a good writer but a marketer as well.
The book will be a reflection of the former President's election campaign in 2008, his early political life, his response to the global financial crisis, his landmark healthcare reform legislation known as the Affordable Care Act or Obamacare, and the killing of al-Qaeda leader Osama Bin Laden in the 2011 U.S. raid in Pakistan. The first volume will encompass this, and the second volume will continue from thereon. It is expected to be one of the best non fiction ebooks of all time.
The publisher of the book has announced that the timing of the release has been chosen consciously to avoid any distraction to the presidential election campaign of Joe Biden, who was a vice president during Obama's presidency. However, it was not clear how prominently Biden figures in this memoir.
An Expected Big Hit
Considering the outlook, this book is expected to be a big hit, and the printing order of three million copies also suggests the publisher is expecting huge demand. The book is part of a $65 million joint deal in which Penguin Random House bought the rights of two books, one of Michele Obama's 'Becoming' and second of Barack Obama's memoir.
Former first lady Michele Obama's "Becoming" was a big hit. It was her memoir launched in 2018. More than 10 million copies of 'Becoming' have sold till date. It was a huge bestseller, stayed at No. 1 on Amazon's bestseller list for more than two months and still is one of the best non fiction ebooks in memoir. 1.4 million copies were sold just in the first week of launch. Considering readers' response to Michele Obama's memoir, the order of printing three million copies seems justified. In her memoir, the first lady mentioned her journey from childhood to the first lady of the United States in a great storytelling way. And just to remind you, Barack Obama is a good writer also. He has already produced two hits; "Dreams From My Father" and "The Audacity of Hope."
According to Crown, "Dreams From My Father" has sold more than 3.3 million units in the United States and Canada, and "The Audacity of Hope" has sold more than 4.2 million. Mr. Obama, who narrated the audio versions, won a Grammy for best-spoken word album for each, as did Mrs. Obama for her narration of "Becoming." The former President will read the audio version of "A Promised Land" as well. If you haven't read these books, give them a try.
Becoming
Becoming is among the best non fiction ebooks in the memoir niche. In this book, Michele Obama beautifully explained her story right from childhood struggles to holding one of the most responsible positions of the nation. Michele shared her experience of managing motherhood and work simultaneously. It is an inspiring book that helps one accept oneself and motivates one to keep growing.
Michele shared her experiences of both triumphs and disappointments. She described how she coped with the new added responsibilities as the United States' first lady and what her journey feels like. This book helps you find your inner voice with more than 150 inspiring questions and quotes. Since its launch, more than 10 million copies of this book have been sold. This book is also available online for ebook download at your device.
The Audacity of Hope
The Audacity of Hope by Barack Obama is a must-read for those who think the American political system needs improvement. In this book, Mr. Obama shared his vision for America's spot in the world. You may have voted Trump for his vision of "Make America Great Again" but once you go through this book, you will get some insight into how to actually make America great again.
In this book, the former President talked about creating a value system for politics, based on the shared understanding of what makes us Americans and what we believe in. The book title is "The Audacity of Hope: Thoughts on Reclaiming the American Dream." The former President shared his deep insight on how to proceed further as a nation. No doubt bureaucracy runs the world, but books like this are great to build a hopeful, shared values based political system.
Dreams From My Father
If you haven't read this book, well, there is no better time to read this book amid all the chaos of the BLM movement. This book will help you realize why it was so special for the nation to have the first black President. In this memoir, Barack Obama shared his memories as the son of a black African father. How did the race impact his father's life and his life? What did his father have to go through in his lifetime? Barack Obama also shared how his father's death shaped his life. The title of the book is "Dreams from My Father: A Story of Race and Inheritance." It helps you build some unbiased perspective of the BLM movement.
Go through all three books. A Promised Land by Barack Obama will be available on stores from November 17. Till then, enjoy these best non fiction ebooks from your home.
The Guardian quote Barack Obama on A Promised Land, "I hope more than anything that the book inspires young people across the country – and around the globe – to take up the baton, lift up their voices, and play their part in remaking the world for the better."
You May Also Like

3 of the Best Audiobook Memoirs 3 of the Best Audiobook Memoirs Jacob Becker , Sep 17, 2020   I found myself reaching a lot for memoirs this year. I have no idea what these stories have that make me feel comfortable just hearing someone telling us about their life, It feels as if I am sitting […]




IF IT BLEEDS BOOK REVIEW IF IT BLEEDS BOOK REVIEW Vintage King: a pleasure for his many fans and not a bad place to start if you're new to him. READ REVIEW IF IT BLEEDS BY STEPHEN KING ‧ RELEASE DATE: APRIL 20, 2020 The master of supernatural disaster returns with four horror-laced novellas. The protagonist of the […]




3 of the Best Audiobook Memoirs 3 of the Best Audiobook Memoirs Jacob Becker , Sep 17, 2020   I found myself reaching a lot for memoirs this year. I have no idea what these stories have that make me feel comfortable just hearing someone telling us about their life, It feels as if I am sitting […]